F1 in Schools start system
F1 in Schools HQ
Racing was back today in an exciting series of events which saw several teams sitting in P1. Run in three sessions, racing was divided by geographical regions in order to accommodate the various time-zones of different teams. Asia & Oceania where first off with Australia's Celestial and Fabulous 9 from Malaysia team in a head-to-head race. The Australian car took the heat with a fastest time of 1.045 seconds in a pattern that would continue as Australian teams Nebula and Dark Matter made it a one, two, three for Australia heading into the next session.
Europe and the Middle East were up next with strong performances from Bolt (Cyprus) and Hyperion (Greece) before Quintolux from Ireland took the top spot with a time of 1.040 seconds. Not wanting to be outdone, in the next head-to-head showdown Prismatic from Greece supplanted their place as the day's fastest car with an incredible 1.014 seconds—only 17 milliseconds off the no-LERS F1 in Schools world record set by Horizon in 2018. Running alongside Prismatic were the England's Team IQ who posted the second fastest time of the day, a 1.031 seconds. Other highlights from this session were Nine Degrees' (Germany & Ireland) 1.032 seconds and Britannia Red's (United Kingdom) 1.052 seconds.
The final session of the day was the Americas. The shortest session saw two teams break into the top ten, Cyclone from the United States and the Brazillian-Greek collaboration team Zenna, with impressive times of 1.042 seconds and 1.055 seconds respectively.
However, fastest times for each team do not paint the whole picture. Variations in canisters and track conditions mean that F1 in Schools cars often have inconsistent run times. In response to this, the organisers of F1 in Schools have devised a timing system that calculates the average time by finding the mean of the 2nd, 3rd, 4th and 5th fastest times of the total of eight runs teams complete over the course of the two days of time-trial racing. This is an attempt to ensure that outlying results are not counted in the final times, making the racing fairer and more of a test of a team's engineering skills. As the average time is used for determining the fastest car award and allocating points for racing, the order of teams by fastest time that we are shown all day does not truly represent the more important average times of teams.
Analysis from Off The Track has shown that, from the results of day 1 racing, of the top ten fastest teams shown on the leaderboard, the final position when calculated with the average time will only be likely correct for four of those teams. We calculated an average time by taking the 2nd and 3rd fastest times from the four runs completed by each team today.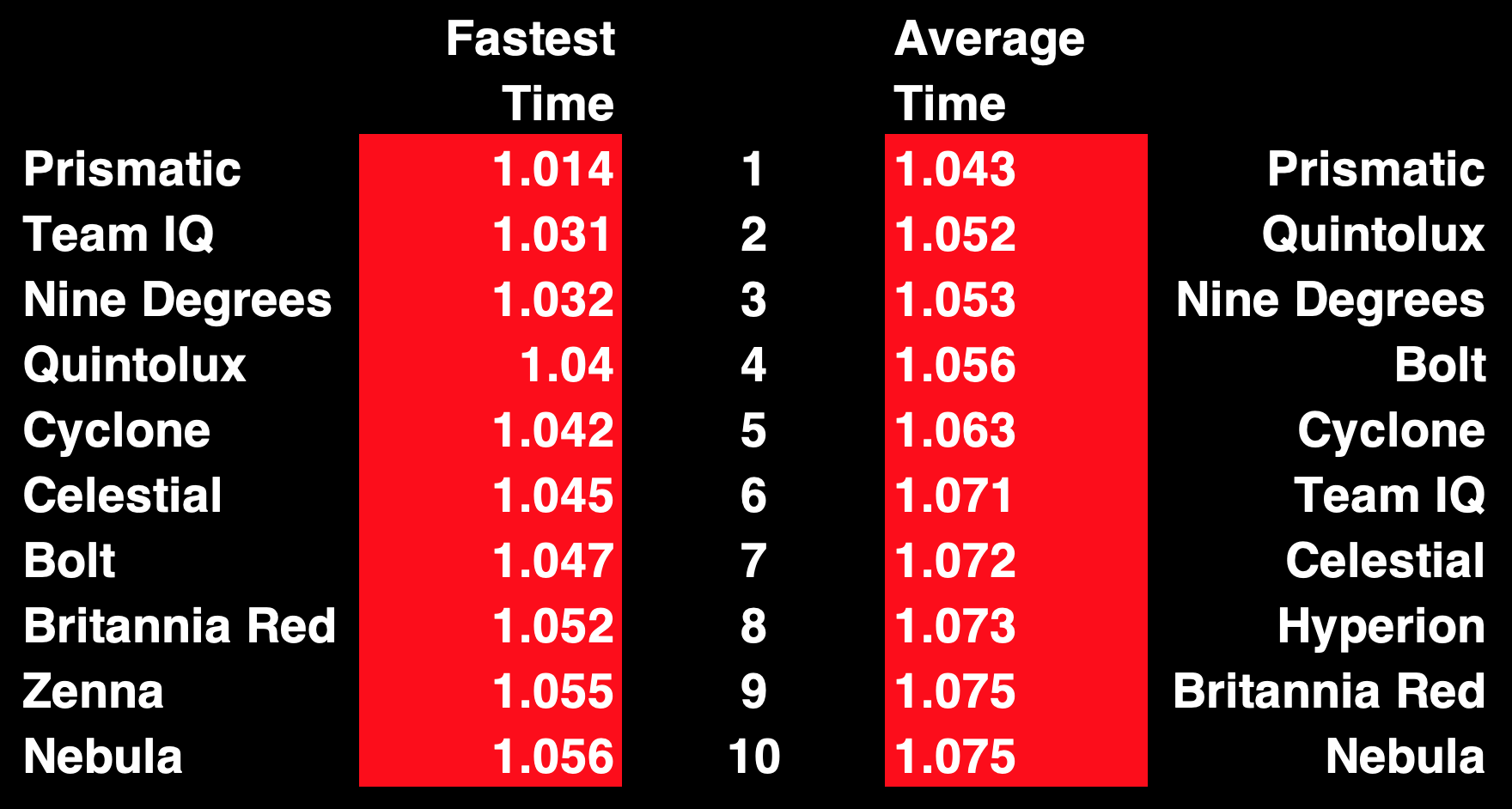 This average time favours teams with consistent results that are nearly all fast times, including Quintolux who move from 4th to 2nd place and Bolt who move from 7th to 4th. The system has demoted some teams who had one particularly fast run that couldn't be repeated, such as Team IQ who descended from 2nd to 6th and Zenna who fall of the top ten leaderboard.
Another interesting finding from our analysis is that lane one appears to be approximately 21 milliseconds faster than lane two. It is unclear why this is happening but it creates an interesting dynamic that should be considered during knock-out racing, especially as teams can choose which of the A and B cars runs in which lane.
With day two of racing still to come, these times are sure to be re-shuffled as some cars find more performance and others begin to feel the damage from their heavy impacts in the deceleration areas.
George Stonor is a UK correspondent. He was the Team Principal and Lead Engineer of 2019 F1 in Schools World Champions, Evolve UK.