The 2020 World Champions speak on their experience of competing in the first virtual World Finals
Britannia Red
From the 4th-8th of June, the 2020(21) F1 in Schools World Finals was held virtually. After three years of participating in the programme, we finally went head-to-head with 43 teams from around the world. This article details the entire event, and how we achieved success.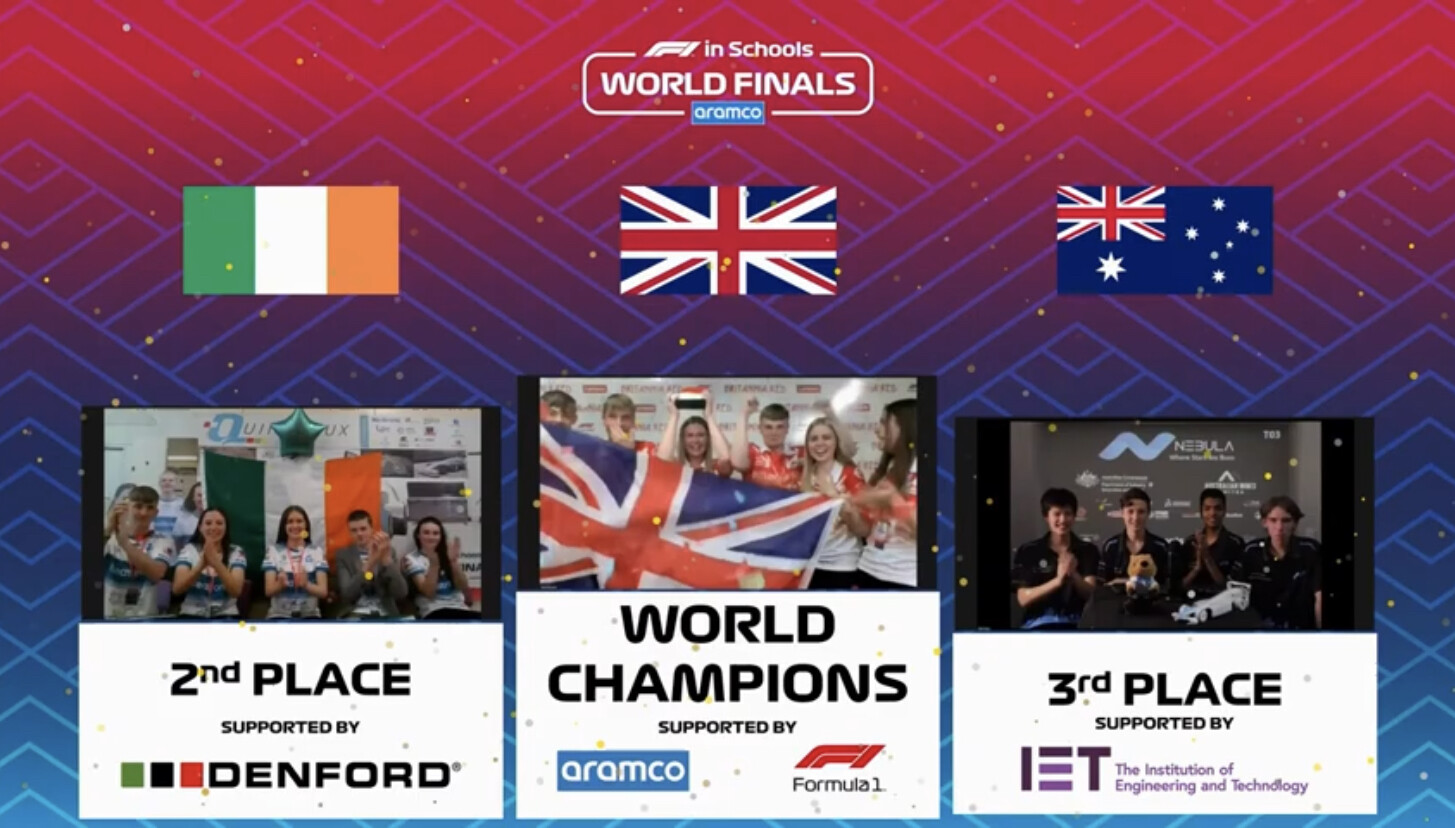 Judging
Preparing for the World Finals, we produced ten documents and two pre-recorded videos to be judged remotely by a panel of judges from across the globe. This included a project management and enterprise portfolio, an engineering portfolio, technical drawings, renders, a 10-minute verbal presentation and a 10-minute pit display presentation. These were assessed prior to the competition, but during the event we were given the opportunity to present more work and knowledge during six live interviews, held on Saturday (5th) and Sunday (6th).
For each interview, we were met by a supportive group of judges, made up of F1 employees, F1 in Schools alumni and industry professionals, who were fascinated and impressed by our work. After each interview, we were given a mark which was later totalled up to decide our position for the awards ceremony.
Racing
Unlike a typical F1 in Schools event - where our driver would press the trigger to race our car - the virtual event meant that the cars were automatically raced from the F1 in Schools headquarters where the event took place. However, this did not make the racing portion of the competition any less nerve-racking. There were three racing components of this year's World Finals: Racing Session 1 – car times only, Racing Session 2 – car times and reactions, Knockouts – car times and reactions.
Time Trial Racing
To determine our car's position for the World Finals, our two cars were raced four times each over the two racing sessions. By the end of both racing sessions, our car was ranked 7th fastest on average of each team's 2nd, 3rd 4th and 5th fastest times. Although not top of the leader board, our car was one of few fully legal cars, meaning that we would not lose any points like the teams who broke technical regulations. Furthermore, our ranking placed us as Seed 4 for the knockout competition.
Knockouts
Arguably the most exciting element to an F1 in Schools event is the knockout competition, where teams compete in a sudden death competition to decide which team has the fastest and most consistent total race time (car time and reaction time combined). Our position after the racing sessions meant that we were immediately placed in Round 2, with our first race being against team Nightglow from China, who we knocked out, earning a place in the Quarter Finals against English Team IQ. This race was very tense, but Britannia Red took the lead, and earned a place in the Semi Finals against the number 1 seed, Quintolux from Ireland. Although this race was very close, the Irish team just took the lead, winning by 0.051 seconds, earning them a place in the finals against the Greek team Prismatic. Quintolux were extremely tough competitors with a fast car and extremely quick reaction times, which ultimately lead them to become Knockout Champions.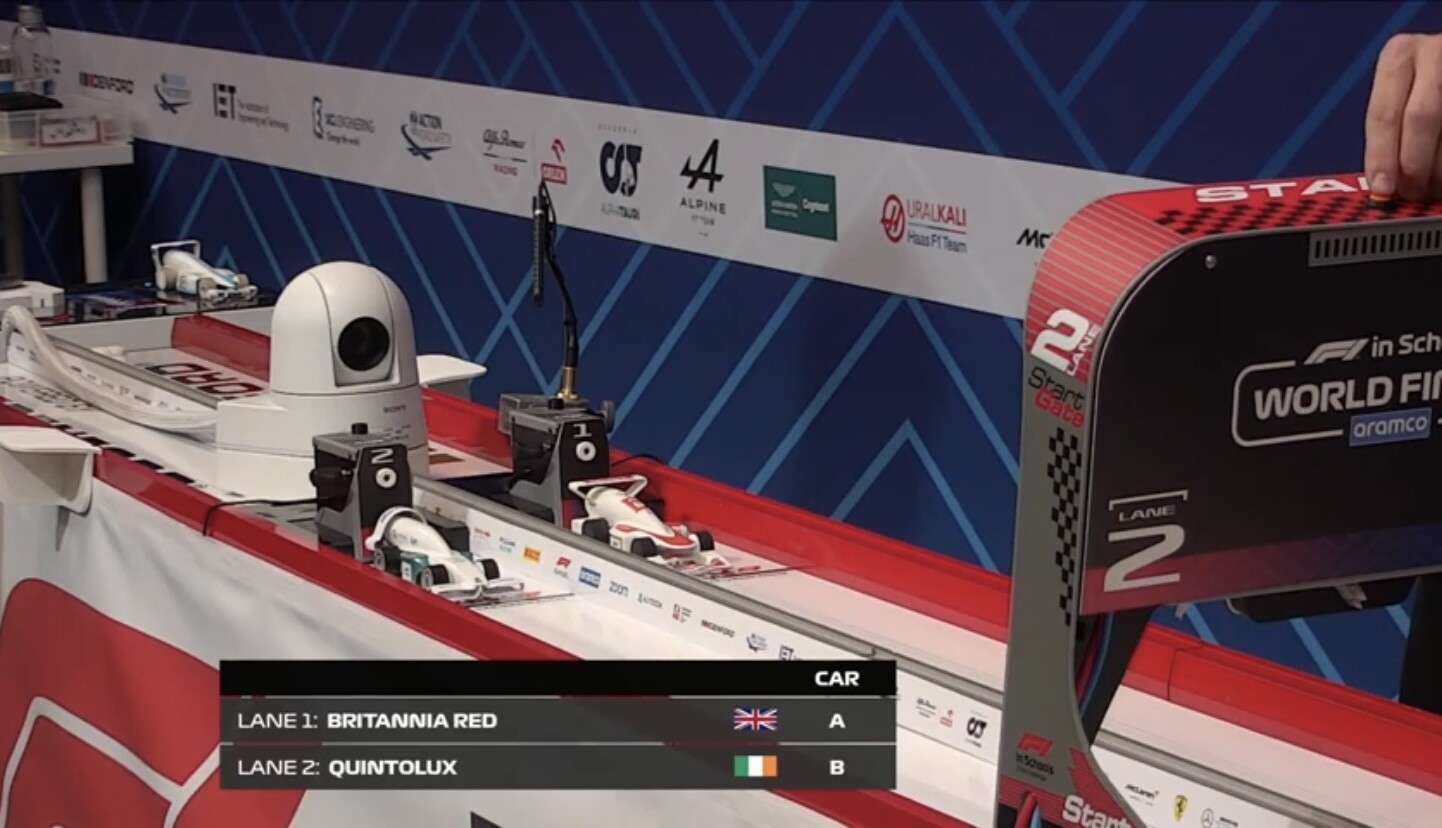 Awards
Finishing off the competition, the award ceremony kicked off on Tuesday at 2pm, with a total of fourteen awards, and three podium places up for grabs. We were nominated for four awards, winning the Best Engineered Car and Best Verbal Presentation awards – two of the most prestigious awards within F1 in Schools – as well as scholarships to the Williams Academy. After the awards were called, only the podium positions remained. In third place came team Nebula from Australia with 792.9 points. In second place: team Quintolux from Ireland with 834.0 points. CEO of Formula One, Stefano Domenicali crowned Britannia Red the 2020(21) F1 in Schools World Champions, with 882.1 points. With this achievement comes scholarships to UCL for Mechanical Engineering, tickets to an F1 Grand Prix and more.
This past year participating in F1 in Schools has had many unexpected challenges and circumstances, however the team continued to maintain dedication and persistence for the project, which has ultimately paid off as we have achieved all our goals, becoming the 16th F1 in Schools World Champions.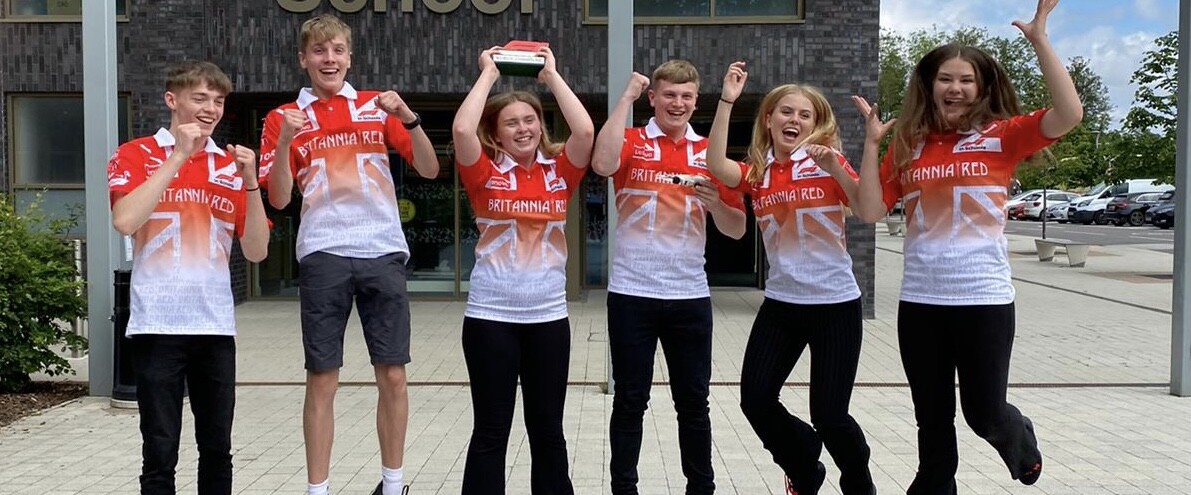 Thank You
To all our family, friends, and alumni, thank you for your constant encouragement of our team. Thank you to Joe, Chris, and the rest of the team at Lenovo, who have given us unparalleled support as our premium partners. We would also like to Driven International, Autodesk, Time2Display, Fluor, OSL, IMECHE, Oxford Projects, 3DPRINTUK and Nissan for their unwavering support. Without it we would not have been as successful in the competition.
Britannia Red are the 2020(21) F1 in Schools World Champions. They are from Robert May's School in England.