2020 F1 in Schools World Finals podium.
F1 in Schools
The two time UK National Champions from Robert May's School, Odiham have been crowned F1 in Schools World Champions.
The team of six were joined on the podium by second placed finishers Quintolux from Saint Brigid's College, Ireland and Nebula from Wesley College, Australia rounding out the podium to finish third.
In the first ever virtual World Finals, teams posted their cars to the Denford HQ in Yorkshire, England and submitted their documents through an online portal. An international panel of judges assessed teams on their engineering, communication, project management and team identity.
The World Finals were originally planned to take place in Singapore in September 2020 but due to the COVID-19 pandemic, this was postponed to Abu Dhabi in December, then Melbourne in March 2020 until the UK was selected for the final location.
The awards ceremony was presented by Sky Sports F1 commentator David Croft. Crofty usually hosts the whole World Finals event but this year he was busy commentating on the Azerbaijan Grand Prix in Baku over the weekend with BBC Radio and F1 Esports presenter Tom Deacon hosting the World Finals—having previously hosted the UK National Finals. The World Champions for 2020 were announced by Formula 1 CEO, Stefano Domenicali.
This is the second time a team from Robert May's School has placed first overall at the World Finals. The school have sent five teams to the previous six World Finals, including 2014 World Champions Colossus F1.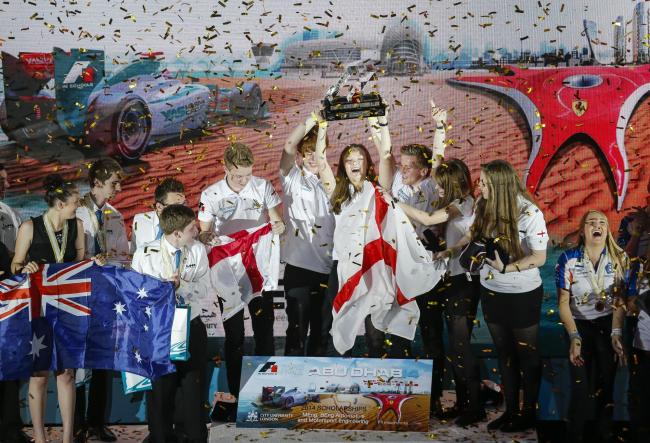 Britannia Red showed a strong performance across the board earning the awards for Best Engineered Car and Verbal Presentation. The team are formed of three girls and three boys aged 16-17.
When asked about the reasons for their success in an Off The Track podcast interview, Ted, their Technical Director, said, "We've just been going for so long now and we've made so many mistakes along the way I think we've just somehow learnt from them." Public Relations Officer, Zach, added that, "The portfolios we submitted have been the work of not just the past year, but of the past five years and every single word in those portfolios has been changed upwards of 36 times."
The fastest car award went to Quintolux whose car recorded an average time (taken from the 2nd, 3rd, 4th and 5th fastest of their 8 runs) of 1.045 seconds. The fastest single race time was 1.014 seconds from Greece's Prismatic but their average time was 1.053 seconds.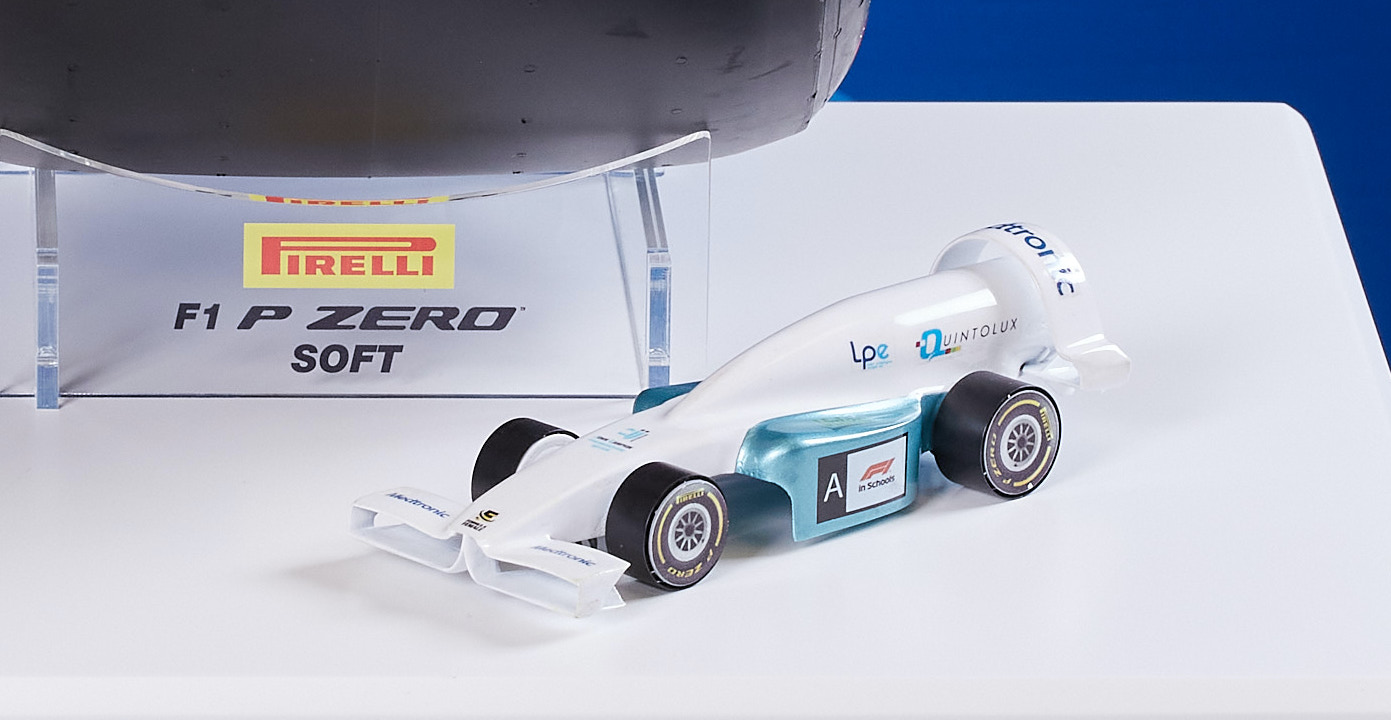 A full list of awards can be seen below:
World Champions supported by ARAMCO and Formula 1: Britannia Red
2nd Place supported by Denford: Quintolux
3rd Place supported by IET: Nebula
Fastest Car Award supported by Mercedes-AMG Petronas F1 Team: Quintolux
Verbal Presentation supported by Alfa Romeo Racing ORLEN: Britannia Red
Knock Out Competition Winners supported by Pirelli: Quintolux
Sustainability Award sponsored by F1: Zenith
Best Engineered Car supported by Williams Racing: Britannia Red
Best International Collaboration supported by Autodesk: Nine Degrees Racing
Research & Development Award supported by McLaren F1 Team: Electron
Sponsorship & Marketing Award supported by Uralkali Haas F1 Team: Brazilian Six
Identity Award supported by Scuderia Ferrari Mission Winnow: Nine Degrees Racing
Innovative Thinking Award supported by Alpine F1 Team: Grand Dash Racing
Scrutineering supported by FIA: Rocket
Pit Display Award supported by Scuderia AlphaTauri Honda: Team Blaze
Digital Media Award supported by motorsport.tv: Olympian Racing
Chair of Judges recognition of Achievement Award supported by Red Bull Racing Honda: Velionne Racing
Best Newcomer Award supported by Aston Martin Cognizant F1 Team: Team SquareQ
Best Application Of Project Management supported by Project Management Institute Educational Foundation: Team Blaze
Women in Motorsport Award supported by FIA: Girls Tonaltech Racing
George Stonor is a UK correspondent. He was Team Principal and Lead Engineer of Evolve UK, 2019 F1 in Schools World Champions.